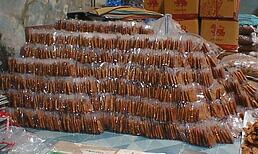 Removing oxygen in many food and beverage processes is critical. If this is done manually, the process can be time consuming and result in inconsistent oxygen removal. However, this process can be automated by removing oxygen (O2) via recursive evacuating and backfill cycles. Automation can be accomplished with a vacuum gauge controller, and it can dramatically improve the quality of oxygen removal and speed up the process.
To achieve process automation, the user must be able to choose a custom set-point to start oxygen removal. This was achieved by:
modifying a Piezo Torr Manometer with 2 control set-point relay controls;
modifying the code to make adjustable hysteresis; and
implementing an adjustable time function with a start button.
These customizations enabled the user to choose a custom set-point to start the oxygen removal process by evacuating, then bleeding in nitrogen. Additionally, each cycle can be timed with a 2nd relay. More specifically:

The 1st Relay Set-Point determines how deep to evacuate the chamber;
The hysteresis determined the vacuum pressure required to back-fill Nitrogen into the system;
A 2nd Relay Set-Point determines how many evacuate-back-fill cycles were required to achieve the desired O2 level; and
the amount of cycle time required can be determined empirically by the user.
Results
Food process automation was successfully automated, and the resulting product was less expensive for the customer and allowed for a much faster turn-around and overall process.More details on the solution can be found here.
Related blog posts: